Realistic Unicorn Horn Gold - Silver
Regular price
Sale price
€64,95
Unit price
per
Sale
Sold out



Unicorns only exist in a fairy tale? Always wanted to have a real unicorn?

These realistic unicorn horns are perfect for turning your horse into a unicorn for a show or photo shoot. They are lightweight and 100% made and hand painted in the Netherlands.
Available in 2 sizes, suitable for any horse or pony

With the fine art attachment you can attach the horn for photo shoots without a bridle or halter. If you want more action photos, the horn with the mounting plate can be attached to the bridle or halter with, for example, iron wire.

Hand-painted realistic horn, with gold or silver
Available in 29 cm and 36 cm height
Available in many different colours, even on request!
Custom made especially for you! (Delivery time +- 1 week)

NOTE: Horses are of course not used to having a pointed horn on their head, and can therefore run into objects or people with the horn. Vigorous movement may cause the tip of the horn to break off for safety. Should this happen, the tip can easily be glued back to the horn.

Because the horns are painted by hand, the horns may differ slightly from each other in color.
Maak de set compleet!
Realistic Unicorn Horn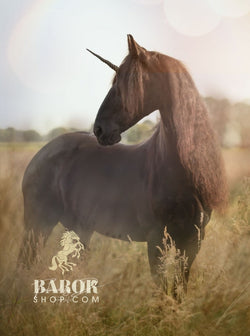 Delivery time & Shipping

Deze hoorns worden speciaal op bestelling gemaakt. De levertijd is ongeveer 1 week
Care Information

All our bridles and breastplates are made of supple leather. Leather is a natural product, which means that every product is never exactly the same, especially colors other than black may differ slightly from each other.

Leather is best cared for by cleaning it every now and then and greasing it with special leather care products. By first cleaning the leather with special leather soap, you remove dirt, skin grease and sweat. Then you can treat the bridle or breastplate with leather grease or leather balm so that it remains nice and supple.
We recommend that you store the harness in a dry and clean place.
Share